COM5.Mobile Optimizer (formerly: CPCM Network Audit Plus) is based directly on the Audit solution. It is particularly suitable for optimizing radio parameters, which the user can access directly via a powerful data editor. Two different views are possible, either in the vendor-specific standard model or in a model customized to the user's requirements (simplified model).
The editing function also makes it possible to systematically change parameters and make associated global changes. In addition, new radio neighborhoods can be added, and existing ones edited or deleted. By integrating consistency checks, the solution detects deviations and data errors early so MNOs can fix them immediately.
---
Integration into the MNO's optimization processes
A configurable interface also allows third-party optimization tools or standard radio network planning tools to be connected directly – this simplifies integration into the network operator's processes. Engineering policies control the automated assignment or adaptation of parameters imported from these tools. The use cases supported during import can be completely adapted to the customer's needs or configured accordingly. All dependent parameters are automatically adjusted on the basis of the technical policies defined by the respective network operator. This ensures compliance with the required KPIs.
During this process, the consistency of the altered data is checked again and finally reconciled with the current live network ("smart delta"). The system recognizes incorrect neighborhoods or inconsistencies with regard to technical specifications and displays them in this delta; the result is structured as a hierarchical tree and displayed according to use cases. Operators can use filter rules to delimit the set of configuration results, and activate them directly in the live network via the zero touch functionality.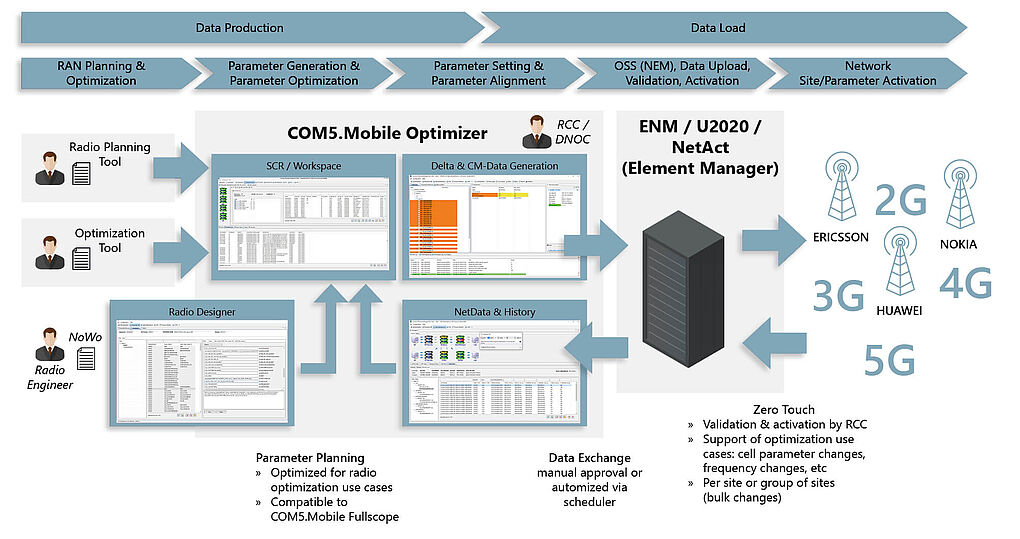 ---
The Radio Designer for better technical efficiency
In the Radio Designer, a technician or engineer can directly create or change engineering policies, as well as consistency rules and parameter templates. Classification of parameters reduces the complexity of their scopes, which can be adjusted manually by network planners/optimizers, by up to 90 percent. The basis for this increase in efficiency is the specified rules and standard requirements or network-wide parameter sets (NWP templates).
Before a new parameter configuration is released as a valid data set, COM5.Mobile Optimizer checks the new version for completeness and consistency using predefined and/or user-specific validation rules. The main advantage for mobile network operators is that it shortens development times and minimizes the impact of additional specification changes.
The operator or engineer can make minor changes to design and manufacturer specifications during the test and/or acceptance phase – thereby ensuring a significant increase in flexibility during these phases. This method ensures compliance with the standards prescribed and verified by the network operator, both in the planning process and during the subsequent transfer to the network.
---
Additional Functions
COM5.Mobile Optimizer is based on COM5.Mobile Audit and offers the following additional functions
Increase the working efficiency for optimization processes

The COM5.Mobile Optimizer is an enhancement of Audit and is restricted to (radio) optimization use cases
All other use cases are handled by the COM5.Mobile Integrator. Optimization must be done directly on the live data (Optimization Closed Loop) or triggered by a third-party planning or optimization tool.
This work split increases the throughput significantly and reduces the backlog in each working process (increases working efficiency by more than 15%)

Optimized for time-to-market: The included Radio Designer is a frontend to the internal parameter database and gives the engineer the ability to make changes or enhancements directly in the tool.
The key benefit is that development times are reduced and the impact of additional specification changes remains as low as possible. The user can quickly make changes to design and manufacturer specifications, which saves a great deal of time in the testing and acceptance phases.
Main use cases are:

Cross vendor/-technology/-region neighbour list optimization
Foreign cell alignment
Automatic handover parameter validation and optimization
SON compliant (SON black-/whitelist handling, feature handling)
Bulk (radio) parameter changes – Mass Operations
Frequency handling (also included: Frequency Hopping) & Scrambling Code and PCI handling
---
Conclusion: Multi-vendor approach eliminates vendor dependency
The multi-vendor capability ensures compliance with the engineering rules across vendors, technologies, and regions. This shows that COM5.Mobile in general and COM5.Mobile Optimizer in particular are especially powerful, since tools both from equipment suppliers and SON solutions available on the market are reaching their limits in this regard. It remains to be said, that every MNO that operates equipment from more than one supplier or is active in more than one country benefits from COM5.Mobile in terms of efficiency, quality, and time-to-market.
---